blog home
48 Hours in...Medellin
Join us on a 48 hour trip around Colombia's most innovative city.
Medellin, once dubbed the most dangerous city in the world, was recently awarded the title of Most Innovative City of the Year. It's an impressive turnaround, but once you cast your eyes on the natural beauty surrounding the city, you'll agree it was destined to become a tourism hotspot sooner rather than later. Located 1,500 meters above sea level, and close to the Equator, the unique micro climate in Medellin ensures Springlike temperatures year round. G Adventure's Colombia Experience offers two of its twelve days in the City of the Eternal Spring, and having lived there for a cumulative two years and counting, I have a few ideas for how you can make the most of your first visit.
The First 24 Hours
Visit: Botero Plaza & and the Museo de Antioquia Fernando Botero is Colombia's most popular artist. Known for his unique style of painting and sculpting voluptuous men, women, and animals, a walk through his sculpture-filled plaza in downtown Medellin is like a walk through an open air gallery. Facing one end of the plaza is the Museo de Antioquia, which houses more of his art, including paintings, as well as works by other Latin artists.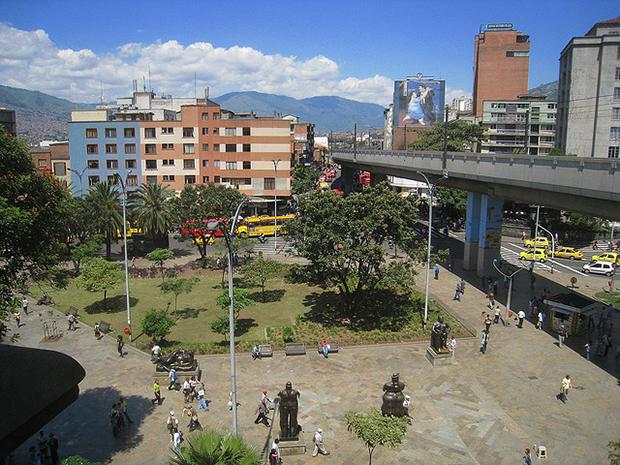 Ride: The Metrocable to Santo Domingo From Botero Plaza, walk to the nearby Parque Berrio metro station, and buy a ticket for 1,800 pesos ($1). Head north on the blue line toward Niquia. Medellin's metro system, the only one in Colombia, opened in 1995, and has been slowly expanding ever since. It's kept incredibly clean, the signage is in both English and Spanish now, and there are security guards posted at every station.
At the Acevedo station, exit the train and transfer (without paying anything extra) to the Metrocable to Santo Domingo. This urban gondola, one of two initially built to provide easier city access to the poorer neighborhoods higher up the mountainsides, has become a symbol of the city's urban renewal. Exit the Metrocable in Santo Domingo, and take the short walk down to Biblioteca España, a large library with black facades, for sweeping views of the Medellin valley. When you're ready to return, buy another ticket for the trip back.
Eat: Ajiacos y Mondongos Once you've washed up after your first afternoon in the city, head over to a local favorite, Ajiacos y Mondongos (Calle 8 #42-46 near Parque Poblado), for a taste of authentic Colombian cuisine. Ajiaco is a thick, potato-based soup with shredded chicken originally from Bogota, while Mondongo, is a tripe-based soup that originated in Antioquia, the department for which Medellin is the capital.
Drink: Parque Lleras If you're still feeling energetic after dinner, walk a few blocks up to Parque Lleras, the city's Zona Rosa, or main nightlife district. Here, you can wander four square blocks of bars, restaurants, and discotecas, looking for just the right place to try a shot of Aguardiente, or guaro as the locals call it. Aguardiente is a cheap, clear, anise-flavored liquor that's wildly popular with Colombians. Each region has its own variation, and it's always taken straight as a shot. Alternatively, enjoy a cuba libre with Ron Medellin Anejo, the local rum, a cold mojito, or cerveza while listening to the mix of salsa, vallenato, and reggaeton being played. Locals and tourists go out to Parque Lleras every night of the week, but Fridays and Saturdays are by far the busiest.
The Second 24 Hours
Go: Paragliding Medellin offers paragliding flights for surprisingly low rates compared to other popular places around the world. About 80,000 pesos, or $43 should get you a 25-minute flight with any number of highly experienced pilots. The flight zone is an hour's bus ride up into the mountains above Bello, the municipality bordering Medellin to the north. From the mountain top, even before you take flight, you'll be afforded breathtaking views of the valley below.
Visit: Guatape and El Peñol If the weather doesn't work out, or you simply prefer to keep your feet planted on the ground, I highly recommend a day trip to Guatape, a pueblo two hours by bus east of Medellin. Situated alongside a man-made lake, it's long been a popular weekend destination for paisas looking to escape the big city. Guatape, like Salento, features colorfully painted buildings, and is a great spot to sample regional cuisine, like bandeja paisa. Fifteen minutes from Guatape, and easily accessible via auto rickshaw, is El Peñol, a giant monolith with a staircase etched in the side. It's worth the 15-minute climb to the top for the 360-degree views of the surrounding countryside.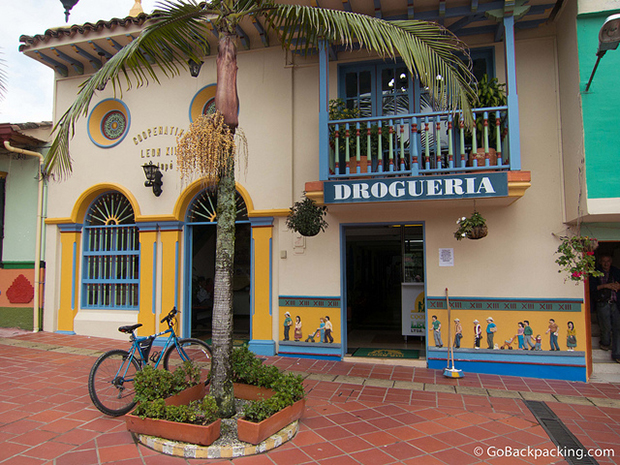 Eat: Carmen Back in Medellin, take advantage of the favorable exchange rate and splurge on dinner at one of the city's best restaurants. Carmen is named after the California chef who moved to Medellin with her Colombian father to open a new restaurant. The cuisine is Asian-inspired, making use of local ingredients. The service is world class, and there's a quiet garden patio if you want to dine al fresco.
Do: Salsa Dancing Colombia is a country known for salsa music and dancing. And you don't have to go to Cali to experience it. Even if you've never danced a step in your life, it can be fun to go out, grab a beer, and watch the locals. Tuesday nights feature live salsa bands at El Eslabon Prendido (Calle 53 #42-55 in Centro), while Son Havana (Carrera 73 #44-56 in Laureles) features live music on the weekends.
Delete post?
Are you sure you want to delete this blog post? This cannot be undone.
Note: If you only want to remove this post from public view, you can choose to unpublish it instead.
Flag this post as inappropriate
Please select the reason why you are flagging this post as inappropriate