blog home
Adventures in Paradise: Travel Bloggers Talk Honduras and its Bay Islands
Randy chats Honduras with travel bloggers Erica Kuschel., Stephanie Ockerman. and Dalene Heck
Posted on 21 February 2013
Snowed in yet again, my mind has begun its annual winter migration to a tropical paradise. Salt-rimmed margaritas have replaced stout beers, and Jimmy Cliff is now a mainstay on my daily playlist. I've been reading alot about Honduras' Caribbean beaches lately, and I am now convinced that the only reason the Beach Boys didn't include the country's Bay Islands (Roatan and Utila are the most popular) in their hit song "Kokomo" was because they wanted to keep them a secret. Curious to find out more about this budget-friendly locale, I spoke with three travel bloggers--Erica Kuschel of Over Yonderlust, Stephanie Ockerman of The Travel Chica and Dalene Heck of Hecktic Travels—to get the lowdown on life in this Honduran paradise.
[HTML_REMOVED]
EK: The Bay Islands (Utila, in particular) are also known for some of the best whale shark watching (its the whale shark capital of the Caribbean) as it is one of the "stops" on their yearly migration. There are many conservation groups in the area that specialize in them. You aren't even allowed to dive with them unless you are a scientist. Everyone else has to snorkel - and even then, very few people are allowed to gather around a whale shark at any given time. There really isn't much else to do in Utila - the area is known just for diving. Roatan has a bit more to offer since it is a cruise port while Utila is a backpacker paradise.
SO: The vibe of the islands is completely different from the mainland. Life is slower and simpler. Being able to relax and enjoy the clear blue water, the beaches, the lush forests and not feeling the urge to be constantly doing something is what I like about the area. If you really want to relax, there are lots of smaller islands you can visit for a day trip or spend a night or two.
DH: We're not divers, but will attest that the snorkeling is the best we have ever done! But other than that, just lounging on the beautiful beaches is a pretty good way to spend your time On Roatan, the most popular beach is West Bay, and while it is very beautiful, there are plenty of hidden and secluded beaches that are just waiting to be found and enjoyed.
[HTML_REMOVED]
EK: I'm not really sure it is must-try but if you're on a budget, baleadas are cheap and filling. It is a giant flour tortilla filled with beans and meat (or egg for breakfast). It gets the job done! Make sure to slather it in the local hot sauces.
SO: You must have a baleada. They range from simple to "super" and are basically a flour tortilla jam-packed with tastiness, folded in half, and grilled. The super baleadas are usually filled with refried beans, sour cream, scrambled eggs, cheese, onions and meat (sausage, beef, or chicken).
DH: Stewed iguana is a local favourite that should be tried if you have the stomach for it--the iguanas are chopped up and cooked slowly in a coconut sauce and served with rice. The bones and skin need to be picked around, but the meat itself actually tastes like a stewed beef. And, being in the middle of the Caribbean ocean, seafood is of course plentiful and the conch is a particular specialty.
The Monkey LaLa is the drink of choice among expats, and for very good reason. It contains vodka, kahlua, coconut cream and ice cream. When in paradise, frosty drinks are necessary, and this one does nicely!
[HTML_REMOVED]
During our Advanced Diving certification, we got to dive the Halliburton wreck 100 feet down. In 1998 they bought and sunk an old tanker. When we went down it looked exactly like the Flying Dutchman in "Pirates of the Caribbean." This thing was covered in barnacles and coral along with being rusted through. It was epic!
[HTML_REMOVED]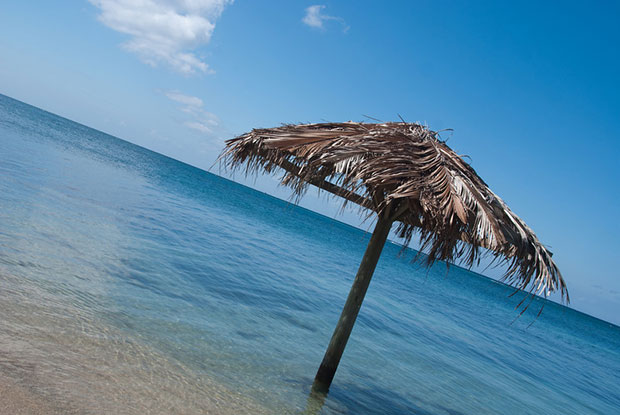 There were so many! Gunther, a local man in his 60s, started diving before PADI (The Professional Association of Diving Instructors) existed. Basically, he was the pioneer of scuba diving on Utila. The morning I met him at a cafe, he had gone on a dive to 220 feet with regular air. He went by himself, not even another person on the boat. When he came to the US many years ago, he wasn't allowed to dive because by that point, PADI was in existence, and he was forced to get his certification despite being a more experienced diver than probably anyone in the entire PADI organization.
[HTML_REMOVED]
It was remarkable to us that the east end of that small island is so untouched. We loved making the trip out there to escape the tourist crowds. There is a great restaurant called the Hole in the Wall that you can only get to by boat, and on Sundays they offer all you can eat steak and lobster. The locals all work in the fishing industry and so the place is full of salty sea dogs with plenty of stories to tell!
We also spent quite a few days on the east end in Camp Bay--a virtually deserted beach with a small hotel and restaurant situated on it. Comfortable beach chairs, beers delivered cold, and even inexpensive kayak tours to the nearby mangroves were available. It was surely our favourite spot!
Delete post?
Are you sure you want to delete this blog post? This cannot be undone.
Note: If you only want to remove this post from public view, you can choose to unpublish it instead.
Flag this post as inappropriate
Please select the reason why you are flagging this post as inappropriate