blog home
Discovering the Meaning of Pura Vida in Costa Rica with Family
I stopped for a moment to wipe the sweat off my brow and catch my breath. I looked up to make sure my kids, lead by my husband and a tour guide, were still o...
Posted on 20 January 2013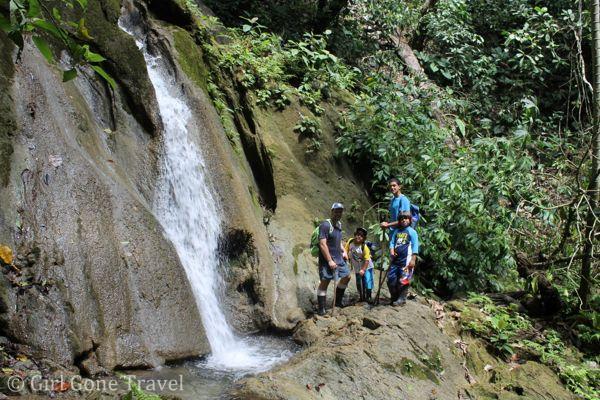 I stopped for a moment to wipe the sweat off my brow and catch my breath. I looked up to make sure my kids, lead by my husband and a tour guide, were still ok as we continued along our hike across the rainforest in search of a waterfall. I was apprehensive about this expedition at first, especially with two kids, ages 5 and 6 in tow, but they were proving to be quite the adventurers. Possibly more so than I had ever given them credit for.
Only 6 days earlier we would never have imagined how easily it would be for us to embrace the true meaning of Costa Rica's _Pura Vida. _Literally translated it means Pure Life, but what that is would be something we had to experience and grow into during our 8 days there.
We started our journey on the Caribbean side of country, in a town called Sarapiquí. Completely unprepared, my husband and I were immediately shocked by the amount of mosquitos that feasted on us the second we unloaded off the van that had picked us up at San Jose. I think back at that first day in Costa Rica as a detox from my first world luxuries, such as air conditioning and Wifi.
What seems to be somewhat overlooked in admiring all the pristine natural resources of Costa Rica is that these remain so because of the country's commitment to sustainable tourism, which means no use of toxic repellents and plenty of natural encounters, including waking up to the sounds of howl monkeys.
I give total credit to our kids for ushering us into it all with the excitement and curiosity of any child. We spent our days hiking in Sarapiquí, touring coffee plantations, and connecting with local farmers who served us our first casados.
We road a boat along the Arenal Lake and admired the views of the volcano by the same name. In Monteverde, we zip-lined through the Cloud Forest and walked across the suspended bridges. We made friends with locals who guided us to the best food in town and my kids delighted in practicing Spanish words they knew.
We took a small plane to the Osa Peninsula on the country's Pacific side, where we lounged on the beaches of Matapalo, and went on morning tours in search of birds and midnight tours in search of snakes and poisonous frogs.
By the time we set out on the hike through the rainforest, my family had changed. We woke up each day eager for two things: sweet fruit and a new adventure.
As I watched them holding on to their make-shift walking sticks, trekking through the stream and rocks, and then eventually jumping fearlessly into the misty waters of the King Louis waterfall, I knew that there was nothing they couldn't do and no place they couldn't take on.  It was the essence of Pura Vida, and we carry it with us still.
Delete post?
Are you sure you want to delete this blog post? This cannot be undone.
Note: If you only want to remove this post from public view, you can choose to unpublish it instead.
Flag this post as inappropriate
Please select the reason why you are flagging this post as inappropriate