blog home
Overlanding Southern Africa: Six of My Favourite Moments
The vast continent of Africa is studded with swathes of wild savanna and deserts, and much of it remains remote and unexplored. This raw, rural backcountry ...
Posted on 30 October 2012
The vast continent of Africa is studded with swathes of wild savanna and deserts, and much of it remains remote and unexplored.  This raw, rural backcountry was a side of Africa that I really wanted to explore and experience. Last year, I joined G Adventures on an overland trip through Southern Africa, and did just that.
The Dunes, Deltas & Falls trip started from South Africa and brought us through Namibia and Botswana to finally arrive in Zambia. It packed in a lot, as we saw plenty of Africa's stunning sights such as Victoria Falls, Okavango Delta and the Namib Desert. But it wasn't just the sights that got me hooked; more importantly, I felt like we went deep into the bush, camping out under the stars each night, and seeing a side of Africa that I would never have otherwise.
I had one of the best times of my life on this trip, experienced some of the most beautiful sights in the world, and made some lifelong friends along the way. Out of all the amazing moments I've had on this trip, here are six of my favourites.
Floating on the Okavango Delta on a Mokoro
I'd long dreamt of visiting the Okavango Delta in Botswana to meander through its waterways and see its wildlife. What I found was beyond anything I'd imagined.  Pristine beauty, tranquility and a sense of remoteness.  It was a different world.
We glided through the narrow waterways on a mokoro, a wooden dugout canoe traditionally used by locals to get around from island to island. On the mokoro, we spotted plenty of wildlife: from yawning hippos at dawn, to elephants and zebras roaming the savannas. We spent the mornings out spotting wildlife – either in the water or on foot, then afternoons swimming in the water or learning to pole, and evenings singing by the campfire and singing with our polers. Life on the delta was easy, laid-back, and perfect.
Climbing Dune 45 in Sossusvlei
At dawn, we watched Sossusvlei work its magic. Shades of orange and red danced across the vast desert, as the sun rose quickly above the sand dunes. Within seconds, the sun had poked above the mounds of sand and risen above our heads.
That morning, we had been dragged out of our tents to climb up the famous Dune 45 in Sossusvlei National Park just to catch this stunning light show. We weren't disappointed. Although the sunrise took place in a matter of seconds, it was so beautiful that I can still clearly recall every minute of it.
Spotting wildlife in Etosha National Park
We were game driving in Nambia's Etosha National Park onboard a mammoth overland truck - I didn't expect to see much wildlife up close, any animal in their right mind would be intimidated by the size of our truck. But on our first game drive in Etosha, I was clearly proven wrong.
A pack of nine lions lay quietly under a tree, nonchalantly flapping their ears, yawning and drooling – in spite of our presence. As our truck came to a stop, we stood just inches away from them.  We held our breathe and watched in silence as the group of wild cats lounged around. It was definitely one of the most intimate wildlife encounters I've ever had. But that was not just it; over the next few days, we saw dozens of oryx, wildebeests, zebras, giraffes, and springboks galloping in the wild, and even a leopard drinking by the waterhole at night.
Meeting the San people in the Kalahari Desert
While wildlife and nature were the main focus of the trip, there was also a cultural element and the itinerary included some interactions with local tribes. In Ghanzi, a small town in Botswana's Kalahari Desert, we met the indigenous San people, sometimes known as  bushmen. These people are traditionally hunters who have lived in the area for hundreds of thousands of years. Most people know them from the movie, "The Gods Must Be Crazy".
With the help of an interpreter, a San family took us on a walk in the bush, sharing with us how they live, what plants they use for medicine and how they hunt. We asked them questions, showed them photos from home, and laughed with them. The evening ended with them showing us their traditional dance and of course getting us to join them around the bush fire. The experience felt rare and genuine, and gave us very interesting insights into their world.
Hiking up Waterberg Plateau
Standing over the plains of the Kalahari in Eastern Namibia, the Waterberg Plateau is a series of cubical sandstone cliffs rising from red earth and thick jungles. It's ecologically rich and diverse, home to plenty of wildlife including the black rhino.  It was also here that the Herero people lost their last and greatest battle against the German Colonial forces at the beginning of the century.
We spent one afternoon hiking up to the top of the plateau in a bid to catch sunset. It was an easy hike that took no more than an hour, though the heat was unbearable.  By the time we reached up to the top, the sun was just sinking into the horizon. We toasted to our friendship with beers, and watched the sun wash the whole area in gold.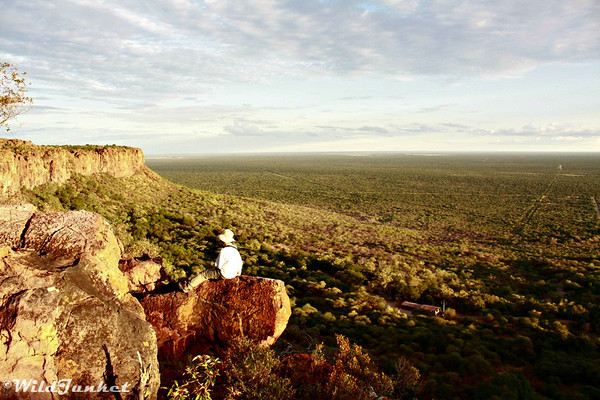 Watching Victoria Falls in its Full Glory
We could hear and feel the roar of the plunging water even before seeing the waterfall. Mosi-oa-Tunya, the smoke that thunders as the locals call it, is one of the most impressive waterfalls in the world. Standing next to it, with the sprays in the air and the sound of thundering water from afar, it almost feels like the earth has cracked. Our trip ended in Livingstone, Zambia, where we did our own side trip to the legendary Victoria Falls – there couldn't have been a better way to end the journey.
Delete post?
Are you sure you want to delete this blog post? This cannot be undone.
Note: If you only want to remove this post from public view, you can choose to unpublish it instead.
Flag this post as inappropriate
Please select the reason why you are flagging this post as inappropriate