Adventure travel leader celebrates the 100th anniversary of Machu Picchu's rediscovery with contest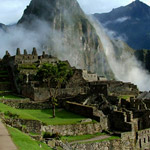 As the 100th anniversary of Machu Picchu's rediscovery approaches (July 24, 2011), G Adventures, the world's adventure travel leader, gives travel enthusiasts a chance to win a free trip to explore the Lost City of the Incas. The contest is open to all Facebook fans who 'like' G Adventures at www.facebook.com/gadventures/.
To enter, participants must submit a photo of themselves along with a message (maximum of 420 characters) explaining why they should be considered. All entries must be emailed to facebook@gadventures.com. Entries will be accepted until July 24, 2011.
Finalists' stories and photos will be announced and shared on G Adventures' Facebook Wall on July 25, 2011. Fans will have the chance to 'like' and vote for their favourite entry until August 1, 2011. The winner will be announced on August 2, 2011.
"We're thrilled to celebrate this monumental occasion with travellers worldwide," says Bruce Poon Tip, G Adventures' founder. "Machu Picchu tops the bucket lists of countless globetrotters around the world. We're honoured to have had the opportunity to share the beauty and history of the Lost City with travellers for more than 15 years."
For more information please visit www.gadventures.com and www.facebook.com/gadventures/.
About G Adventures
G Adventures is a world leader in the adventure travel industry offering small group adventures on all seven continents and beyond to more than 100,000 global travellers annually. The award-winning trips, which focus on culture, nature and active travel, are ideal for those with a sense of adventure - people who want to leave the beaten path and authentically immerse themselves in a local culture or environment to experience the real world in a sustainable manner. Demonstrating its ongoing cultural, social and economic commitment to responsible tourism, G Adventures established the Planeterra Foundation, as a way for the company and its travellers to give back to the communities visited. For more information, please visit www.gadventures.com and www.planeterra.org.