Community-based tourism experience receives top honour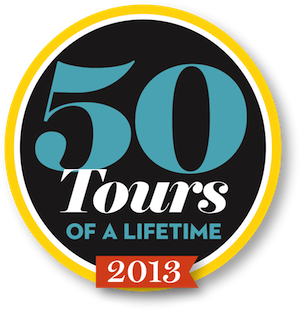 G Adventures' Local Living Ecuador: Amazon Jungle trip has been selected as one of National Geographic Traveler magazine's 50 Tours of a Lifetime of 2013. Since the competition's introduction in 2006, the tour operator has been recognized eight times.
"Being included on this prestigious list is a huge honour," says Bruce Poon Tip, G Adventures' founder. "I first met Delfin and the hosting family of this tour more than 20 years ago when I backpacked through Ecuador. We are still collaborating with his family and several other communities around the world in a similar way to deliver meaningful, immersive and sustainable travel experiences to this day."
New for 2013, the seven-day Ecuador Jungle tour immerses travellers in the dramatic and lush scenery of the tropical Amazon rainforest where they live with a local family, learn Quichua traditions and experience life in the jungle first-hand. Participants visit an animal rescue centre, hone their blowgun skills, take part in a jungle cooking class and artisan crafts sessions, and experience a shaman healing ceremony and jungle marriage ceremony.
Introduced for the first time last year and unique to G Adventures, Local Living™ tours bring travellers close to the land and its people by embedding them in local life. Guests stay in one place, truly live like the locals, and actively explore their surroundings.
"The selection process was competitive and our editorial team worked long and hard to find 2013's most authentic, most innovative, most immersive, best-guided, and most sustainable tours," says executive editor Norie Quintos. "The tours we selected capture that spirit of exploration. They push the boundaries of mainstream tourism, whether taking travelers to the far corners of the globe, or helping them dive deep into the culture of familiar destinations."
G Adventures' Local Living Ecuador: Amazon Jungle trip will be featured in the May 2013 issue of National Geographic Traveler magazine.
For more information please visit www.gadventures.com.
About G Adventures
G Adventures is an adventure travel pioneer offering the widest selection of affordable small-group tours, safaris and expeditions to more than 100 countries on all continents. It was the first adventure travel company to offer 100% guaranteed departures in 2013. Powered by an international team of passionate travellers, the award-winning trips embrace authentic accommodation, exotic cuisine and local transport to put travelers on a first-name basis with the planet's people, cultures, landscapes and wildlife. The intimate, authentic and sustainable approach to small-group travel introduces travellers to the highlights of a destination while offering the freedom to explore it on their own. Whatever age, interest, ability or budget, G Adventures has a genuine life-changing experience. For more information please visit www.gadventures.com.